Senior Advisor – ESG Services
To plays a crucial role in helping our client integrate sustainable and socially responsible practices into their business operations
Company – Client of Bridge Et Al.

Job Location –Mumbai, Pune, Delhi, and Bangalore (Remote)
Job Responsibilities
As an ESG Consultant will play a pivotal role in assisting our clients in their ESG journey. You will collaborate with cross-functional teams to develop and implement ESG strategies, assess risks and opportunities, and ensure compliance with industry standards and regulations.
ESG Strategy Development:
Collaborate with clients to understand their business goals and objectives.
Conduct comprehensive ESG assessments to identify key focus areas.
Design and implement tailored ESG strategies aligned with client objectives.
Engage with stakeholders including investors, customers, employees, and communities to gather insights and feedback.
Facilitate effective communication channels to address stakeholder concerns and expectations.
ESG Reporting and Disclosure:
Support clients in preparing ESG reports, including sustainability reports, TCFD disclosures, and other relevant documentation.
Ensure compliance with relevant reporting frameworks (e.g., GRI, SASB, CDP).
Risk and Opportunity Assessment:
Conduct thorough assessments of ESG-related risks and opportunities impacting the client's operations.
Provide recommendations for risk mitigation and capitalizing on opportunities.
Stay abreast of evolving ESG regulations, standards, and best practices.
Assist clients in navigating regulatory requirements and ensuring compliance.
ESG Performance Metrics and KPIs:
Develop and implement ESG performance metrics and key performance indicators (KPIs) to measure progress and impact.
Track and report on ESG performance against established goals.
Training and Capacity Building:
Provide training and workshops to client teams to enhance their understanding of ESG principles and practices.
Foster a culture of ESG awareness and accountability within client organizations.
Market Research and Benchmarking:
Conduct market research to identify emerging ESG trends, best practices, and innovations.
Benchmark client performance against industry peers and competitors.
Qualifications
Bachelor's degree in [relevant field]; Master's degree preferred.
Experience in ESG consulting, sustainability, environmental services, or related field.
In-depth knowledge of ESG frameworks (e.g., GRI, SASB, TCFD).
Strong analytical skills and ability to translate data into actionable insights.
Excellent communication and stakeholder management skills.
Ability to work independently and collaboratively in a team-oriented environment.
Proficiency in relevant software/tools.
Locations

India

Remote status

Fully Remote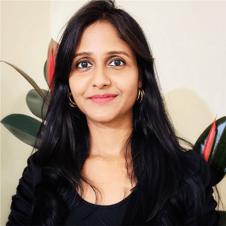 Contact
Deepti Sahu
Manager - Talent Acquisition & Operations
Senior Advisor – ESG Services
To plays a crucial role in helping our client integrate sustainable and socially responsible practices into their business operations
Loading application form